Update
To demonstrate that there is actually strategic value in mothballing the old aircraft, the Air Force has gone to the bone yard to resurrect a B-52 that was moved to long-term storage back in 2008. It took a team at Davis-Monthan four months to prepare the 60 year-old bomber for flight after its decade-long storage in the Arizona desert.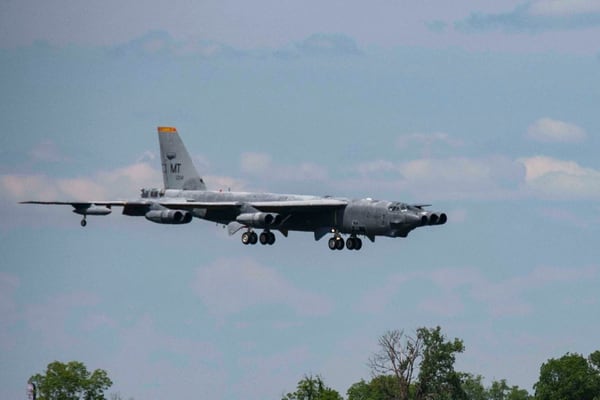 July 2, 2019
It's been awhile, but it appears that there have been some new additions to the Air Force Boneyard in Tucson.  The Navy, which retired the wings of the famous F-14 fighters a few years ago, has now started retiring the early models of the FA-18.
You can check out more at the Aviationist…
October 25, 2018
A YouTube video about the Bone Yard:
August 8, 2013
There's a decent article at Jalopnik entitled "Why Aircraft Bone Yards Exist in the First Place"
January 13, 2012
You've probably seen photos of the airplanes stored at Davis Monthan AFB in Tucson… A few nice aerial photos from Joe Knecht.
The first photo on the left (click the thumbnails for larger image) shows F-4, F-15, and F-14.  The middle photo shows B-52, while the photo at the right shows A-7 and some helicopters.
Many of these aircraft are on display at the nearby Pima Air & Space Museum.  I captured some photos in the posting here.
As you've probably seen in other growing cities, the urban sprawl has started to surround Davis Monthan.  You can drive from the Tucson Airport to parts north of the city on a major thoroughfare such as Kolb Rd, and get a chance to view the "ghost air wing" (click on the image below to go to Google Maps version).
Here's another photo snapped from satellite (from GeoEye), as well as a shot of some C-130s on the ground during one of my drives…
Update Oct 4, 2010
I've discovered photographs of a Soviet version of the aircraft bone yard (much smaller scale).  You can check here at this photo-oriented web site.
Update Jan 9, 2009
I was back in Tucson for business and I stopped by the old stomping ground to capture a few more photos…  you can see me standing by the outer fence near the C-130s, as well as a close-up of one of the signs warning about the "active" dog teams.