Update
Anti-Semitism continues…
December 19, 2019
Evidently, the Jersey City official that practices "open" anti-Semitism, (Ms. Terrell-Paige) showed no remorse for her harsh comments about Jews.   When she was asked if she regretted her statements, she said, "No, I don't."
In a related episode, a Jewish student was recently subjected to open anti-Semitic abuse on the New York subway.  A black New Jersey resident, Zarinah Ali, began hurling racist abuse — 'Allahu akbar, it's in the Quran, where they curse the serpent Jew, you wouldn't believe. You f***ing nasty a** Jew … you f***ing stinking a** Jew.'
Is there a repeatable pattern here?
December 18, 2019
According to a recent op-ed, the New Jersey murderers were triggered to kill Jews as a result of ideology espoused by Louis Farrakhan: "Terrorists who gunned down Jews in a Jersey City kosher market were inspired by Nation of Islam leader Louis Farrakhan."
And just to make it a little more crazy and complete, a black Jersey City elected official blamed Jewish members of the community for the shooting committed by two African Americans.  The official accused Jewish leaders of forcing blacks out of their homes and of "selling body parts,"and implied that this "assault on the Black communities of America" is what led the two people to murder unarmed Jews.
December 12, 2019
The black racists in the New York area are starting to show their true principles.  There are not only the unprovoked hate crimes against Jews in Queens and Brooklyn, but now we have anti-Semitic murders in New Jersey.  Of course, the mainstream media would not dare call out these groups for what they really are:
The New York Times called them "sidewalk ministers" who practice "tough love." The paper quoted Heidi Beirich of the Southern Poverty Law Center who described them as victims of racism and claimed that they were non-violent.

The Washington Post, in its own puff piece on the Black Hebrew Israelites, also falsely described them as non-violent, and concluded that, "Israelite street preaching in parts of D.C., Philadelphia and New York is commonplace, a familiar if odd accent to city life."

The odd accent to city life in Jersey City came amid a hail of bullets as two members of the racist black nationalist hate group opened fire in the JC Supermarket. Despite initial claims by the media and the authorities that the Jewish market had not been targeted, David Anderson and Francine Graham ignored passerby on Martin Luther King Dr, to get to the store and kill as many Jewish people as they could.
August 29, 2019
Here is another episode of black anti-Semitism… the President of the NAACP in Passaic New Jersey had some fine comments:
"I don't talk to fucking Jews," Dye told the New Jersey Globe during a very brief telephone interview.  "Get the fuck out of here."
Dye was fired from his job with the state Department of Labor and Workforce Development last week after the Globe reported that he had made anti-Semitic and anti-Latino comments on his personal Facebook page.
March 14, 2019
A reasonable summary of the Democrat party's de facto support of Moslem anti-Semitism:
And so Ilhan Omar is the new leader of the Democratic Party, complete with all her anti-Semitism. The next time she says something anti-Semitic, and she certainly will, there will be not the mildest statement of contradiction from Democratic leadership. What can they possibly say? She has already faced them down and won. She has gotten them to accept, however tacitly, that her views are acceptable and within the Democratic Party mainstream. She has achieved the normalization of a paranoid Jew-hatred not seen in the political mainstream since the Third Reich.
March 8, 2019
Since the Internet is filled with commentary about the blatant anti-semitism of the two new Moslem representatives in Congress, this post has not included many references to those stories.  Instead, I leave it to the reader to determine if there is a clear pattern that can be gleaned from the empirical data about the relationships between Black Moslems and Jews:
As it is, Omar is unchastened, a valuable message is undelivered, and a learning opportunity is lost.  But every day brings the possibility of new information.   Perhaps someone will ask her the bottom-line question that reveals the truthful Jew-hater:  Does Israel have the right to exist?
February 11, 2019
Organized anti-Semitism is perfectly acceptable among the Leftists:
For decades, Farrakhan has promoted anti-Semitism, in sermons, in media appearances, and in writing. In his 2018 Saviour's day speech, Farrakhan castigated Jews for rejecting Christ and accused them of promoting homosexuality in the black community. Despite his anti-Semitism, Farrakhan has avoided the type of ostracism that someone like David Duke experiences.

…

For decades, surveys have consistently found higher levels of anti-Semitism among African Americans… 22% of African-Americans, and 40% of foreign-born Hispanics were anti-Semitic, according to the ADL's definition…. Many Jews believe that because both blacks and Jews have suffered discrimination, blacks will be more sympathetic toward them. However, the evidence suggests that blacks are not particularly sympathetic toward Jews
January 13, 2019
The hatred for Israel and Jews is very rampant in the community of haters, especially Tamika Mallory, one of the organizers of this lunatic woman's march.  Their convoluted logic in supporting avowed haters is astounding:
"As a leader, as a black leader in a country that is still dealing with some very serious unresolved issues as it relates to the black experience in this country, I go into a lot of difficult spaces…

"I didn't call him [Farrakhan] the greatest of all time because of his rhetoric, I called him the greatest of all time for what he's done in black communities," she replied, as The View's audience applauded.
In other words, if you do something nice for 'your people' (Hamas distributing food for Gazans, Farrakhan supporting the black community), that absolves you from any culpability for avowed hatred for other people.
October 17, 2018
Once again, testing how far the Leftists and mainstream media will allow him to operate, Farrakhan is unequivocal in showing his anti-semitism:
Nation of Islam leader Louis Farrakhan addressed a gathering in Detroit on Sunday to mark the 23rd anniversary of the Million Man March, and used it as a platform to launch yet another attack on Jews, calling them "termites."
I'll give Democrat Dov Hikind of New York credit with his clear statement:
"Farrakhan's vile statements against Whites and Jews have been ignored by my fellow Democrats.  There is nothing subtle about this modern-day Goebbels' hatred. This racist doesn't even hide behind an anti-Israel statement; he just publicly attacks Jews and the Jewish religion, and works to incite hatred and racism among his followers. Even worse, Democrats continue to give him a pass. Former President Bill Clinton sat next to him at Aretha Franklin's funeral. It was appalling!"
June 12, 2018
From Karin McQuillan, some preliminary analysis on Black and Moslem anti-Semitism:
Dig  into the ADL report on anti-Semitism in America and you find that Black anti-Semitism is twice the national average and was three times the national average when Obama was in office… The bombings, arson, Molotov cocktail attacks, and shootings by American Moslems attacking Jews speak for themselves.
June 11, 2018
He's baaaccckk…  Mr. Farrakhan just can't seem to get or give enough.  Evidently, the infamous Black Moslem gave another rousing speech over the weekend where he said:
Do you know that many of us who go to Hollywood seeking a chance have to submit to anal sex and all kind of debauchery and they give you a little part? It's called the casting couch. See that's Jewish power.
Perhaps someone should interview Roseanne Barr for her comments about people making harsh criticisms.
March 23, 2018
More on the fallout from Farrakhan acolyte Trayon White… the PowerLine blog shares some of their thoughts about impudent Leftist Jews:
As for Jewish organizations, the Washington Post reports they are ready to forgive the councilman. In a confession of its stupidity, Jews United for Justice, a left-wing outfit that endorsed White in 2016, said of him, "this is not the guy we know." "We want to work with him," its spokesperson added.

There was a time when Jewish organizations (no matter how liberal) and environmentalists would be embarrassed to work with an anti-Semite who thinks Jews create natural disasters for profit. But these days, almost nothing embarrasses the left, and the cluelessness of liberal American Jews defies belief.
As one of my good friends used to say "True That".
March 19, 2018
Farrakhan's outlook on Jews must be contagious… A black Washington, DC lawmaker blamed a recent snowfall on a family of Jewish bankers — accusing them of controlling the climate and orchestrating natural disasters.  Trayon White recorded a video full of antisemitism in which he said:
"Man it just started snowing out of nowhere this morning, man. Y'all better pay attention to this climate control, man, this climate manipulation," 
March 12, 2018
The Blacks, Moslems, and Social Justice Warriors love Farrakhan. For his loyalists, they explain away his bigotry and anti-Semitism as it's simply 'Farrakhan being Farrakhan'.  They'll comment about him the same way the UN comments about Hezbollah — yes, he hates the Jews but he also has a good side.  As the Leftists in Chicago describe Farrakhan: "I don't hate him, I pity him. To me, he's crazy old Uncle Lou. For all his bad-boy blather, Farrakhan has a weird vulnerability, almost a sweetness."
The mainstream media continues to pretend that there is nothing wrong.  While many other bigots have been limited or removed from Twitter, Farrakhan just goes on tweeting with the coveted blue check mark next to his name.
Fortunately, there are various web sites and blogs that have not been willing to let this situation pass without comment.  For example, over at American Thinker, Michael Curtis remarks:
In the United States the silence is deafening on the part of the media and Twitter concerning members of the Congressional Black Caucus and others tolerant of or not critical of the raucous bigoted rhetoric of Louis Farrakhan (once Louis Walcott and Louis X), the African-American activist who has been leader of the Nation of Islam (NOI)

…

What is disconcerting are two things: the refusal of members of the Congressional Black Caucus (CBC), the very people concerned with discrimination and bigotry, to condemn wholeheartedly or to dissociate themselves from Farrakhan's bigotry; and the almost universal absence of critical, explicit, candid commentary by most of the mainstream media on these failings.
Over at the Daily Caller, the noted that the Republicans National Committee was calling out for a response:
"Keith Ellison's long pattern of lies about his ongoing relationship with Louis Farrakhan, who the Anti-Defamation League calls 'America's leading anti-Semite,' has put a stain on the Democrat Party," McDaniel said in a press release. "Anti-Semitism has no place in American politics, Tom Perez must address this issue."
And from Ace of Spades, a reasonable question is posed:
Media Intensely Interested in Right-Wing (Allegedly) Anti-Semite That Draws Crowds of Less Than 50;  But Not At All Interested in Left-Wing Anti-Semite Louis Farrakhan Who Draws Crowds of 10,000, and Has High-Profile Democrats Like Barack Obama Courting.
Then there is Jeff Dunetz at the Lid telling the world the reality about Farrakhan-follower Ellison and the Democrat party:
Ellison is a featured keynote speaker at many BDS organization events including the American Friends Service Committee which runs a BDS boot camp, Progressives for Palestine, and is a favorite of the anti-Israel group ironically called Jewish Voice for Peace. In a rare occurrence of disagreeing with progressives, The Jewish Voice for Peace was named by the Anti-Defamation League as one of the 10 most anti-Israel organizations in America (I am sure their mothers are proud).

…

Keith Ellison's history and actions of mainstream Democrats demonstrate that no one should really be surprised so many in the party support Louis Farrakhan and his anti-Jewish hatred… The only remaining question is, will my fellow American Jews who overwhelmingly (and blindly) support the Democratic Party finally wake up and smell the truth.
Of course, I'm still waiting for Alan Dershowitz to take a position on the latest news about Perez, Ellison, and the anti-Semite Democrats.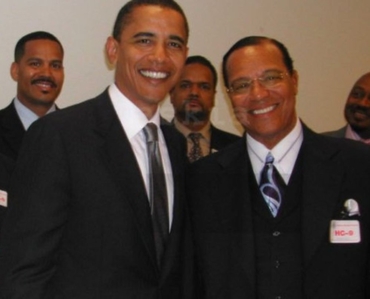 Democrats and the Hitler-loving Jew-hater
March 8, 2018
From the political party that lacks any ethics whatsoever: Democrat Keith Ellison believes that people don't care about his ties to the notorious anti-Semite Louis Farrakhan.  As revealed by The Daily Caller, Ellison, a devout Moslem, attended multiple meetings with Farrakhan while in Congress.   Ellison is currently the deputy chair of the Democratic National Committee.
March 7, 2018
What is it about western culture that when Blacks and Moslems extol hatred and violence it is met with silence?  Whether it is Farrakhan in the US, Khamenei in Iran, or Malema in South Africa, the threats (and actions) against life never seem to warrant a comment from the New York Times, Washington Post, ABC, NBC, etc.
Is this based on the belief that these actors with a third-world mentality are just exaggerating for effect and thus not worthy of comment?  Is it actually more insidious and these news organizations are concerned about drawing negative attention to these folks that are held in high esteem by the Black and Moslem communities?
Does it ever make sense to vote for someone that is running for public office based on being a member of the black congressional caucus?  The hispanic congressional caucus?  The hillbilly congressional caucus?   Does this approach represent the best interests of American citizens?
March 6, 2018
From 'The Lid" web site:
Recently released pictures and videos, revealed that Obama and other Democrats including Maxine Waters (D-CA), Al Green (D-TX), Barbara Lee (D-CA), and seventeen other Democratic members of Congress had very friendly meetings with racist, anti-Semite Louis Farrakhan. The Deputy Chairman of the Democratic Party Keith Ellison had a closer relationship with the bigot whose hatred's been displayed throughout his long career.

…

As for the mainstream media, they usually ignore Antisemitism (see Al Sharpton and Barack Obama) but Farrakhan spews hatred against all white people why is the media silent?  Is it because they only care about some bigotry? Is it because Farrakahn has a relationship with Democrats, and the bigots who support the president are supporting a Republican? Perhaps it's because the media hates Trump more than the average Republican?
March 4, 2018
It appears that many members of the black congressional caucus support Farrakhan's views.  In fact, Representative Danny Davis, who serves the 7th Congressional District of the state of Illinois had this say about his friendship with the man who is as divisive as the Grand Dragon of the KKK:
"That's just one segment of what goes on in our world. The world is so much bigger than Farrakhan and the Jewish question and his position on that and so forth. For those heavy into it, that's their thing, but it ain't my thing," 
So you now have the appropriate response when anyone calls you a racist — just say "the world is so much bigger then that and the black question…it ain't my thing"
March 2, 2018
Louis Farrakhan gave a speech on February 25 in which he declared that "Jews are my enemy."   He further said "White folks are going down. And Satan is going down… pulled a cover off of that Satanic Jew, and I'm here to say your time is up, your world is through."
Did you know that Barack Obama and Keith Ellison are followers of Mr. Farrakhan.  They are also strong supporters of the regime in Iran.
Hmmm,  did you read about this incident at the Google or Yahoo web site?  How about the Washington Post or New York Times?